Lima, Peru — In September 2021, Hellen Meniz, a journalist with one of Peru's largest broadcast news agencies, RPP, was attempting to interview former President Pedro Castillo as he exited an event in Lima. 
A member of Castillo's press team, Franco Pomalaya, shoved Meniz and attempted to snatch her microphone from out of her hands before an unknown woman grabbed her from behind, pulling her away from the president.
A video captured the incident and Meniz would later denounce the actions, making her one of 299 victims of attacks on press freedom in Peru between July 28, 2021 (the day Castillo took office) and December 7, 2022 (when the president was impeached), according to data from the National Association of Journalists (ANP) of Peru.
"It was an assault. In the images, you can clearly see how Mr. Pomalaya is trying to take my microphone away from me," Meniz told Peru Reports.
At that time, the Ombudsman's Office rejected the attack and pointed out that the government "has the duty to facilitate the work of reporters and not hinder."
According to the latest study published by ANP, 2022 was an "unprecedented" year for attacks against journalists, ranging from threats and harassment, to legal action against them, to verbal and physical violence. Last year there were 303 attacks on journalists and the media during Castillo's administration and the first 24 days of President Dina Boluarte's term.
It is the highest number recorded so far this century in Peru, followed by the years 2020 (with 239 attacks), 2007 (with 212) and 2021 (with 206), in the last two decades. In 2019, there was a much smaller number: with 109 attacks in total, during the administration of former President Martin Vizcarra.
The ANP report states that, in 2022, there were 109 cases of threats and harassment against journalists, and 103 cases of physical and verbal aggression against them.
There were also 28 incidents of legal intimidation and obstruction of information, including instances when Castillo's government as well as Peru's Congress restricted access to journalists, impeding their ability to inform the public.
During his administration, Castillo made very few statements to the media and did not report many of his actions to the public.
"Pedro Castillo was silent with the media, he did not like to speak to journalists or give interviews. He has done that since his presidential candidacy," Meniz said. "He did not give answers that Peruvians deserved, despite the fact that we are all experiencing a year of considerable economic and social uncertainty," she added.
In addition, journalists were prohibited from entering the press room of the Presidential Palace for several months.
"Castillo not only closed the doors of the Presidential Palace to us, he closed the historic Plaza de Armas, making journalism and commerce difficult. It has left us journalists with a bad taste, because this never happened with other presidents," Meniz said.
According to the ANP report, Castillo's administration "went to the extreme by placing dozens of police officers to prevent journalistic coverage, locking reporters in auditoriums or rooms, and even attacks by state security agents."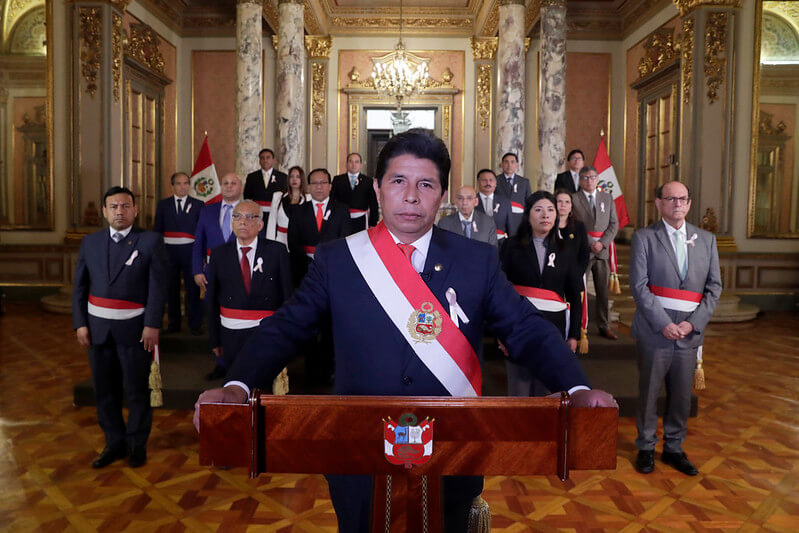 Meniz described the coverage of Castillo's presidential activities as "complicated."
"It was quite complicated in Lima and also in the [other] regions," she said.
During his presidential campaign and later as president, Castillo delivered dozens of messages that took aim at the press.
According to the ANP report, even his ministers "in several press conferences, gave a stigmatizing speech that was later imitated in the streets by their supporters, which led to attacks on the reporters."
The ANP also cited that in addition to stigmatization from the government, there exists a general "anger and boredom" in the population against the news media "in the face of what they consider to be an informative farce."
In 2022, civilians were the principal aggressors against journalists, with 156 total aggressions. While public officials carried out 79 aggressions and the security forces were responsible for 40.
Castillo's speech may have influenced the public as well, according to the Ombudsman's Office, which in October 2022, urged President Castillo to respect the freedom of speech and avoid attacks against the media.
"The president's hostile speech has already provoked acts of violence against male and female journalists," the Ombudsman's Office said. The statement was released hours after Pedro Castillo described the media as "biased" and "in collusion" with power groups to "lie" and make him resign.
Violence against journalists covering the protests
The most dangerous month in 2022 for journalists coincided with national protests that erupted following Castillo's ouster from government and subsequent imprisonment after he attempted to dissolve Congress and rule by decree on December 7. That same day, then-Vice President Boluarte replaced him in office.
Sixty-three aggressions against the press occurred in December amid the protests, including the damage of a vehicle used by media outlet Exitosa as well as the attacks by protesters on the headquarters of América TV and Panamericana TV, two prominent television stations based in Lima.
Protests in the country continue, and thus far have claimed over 60 lives.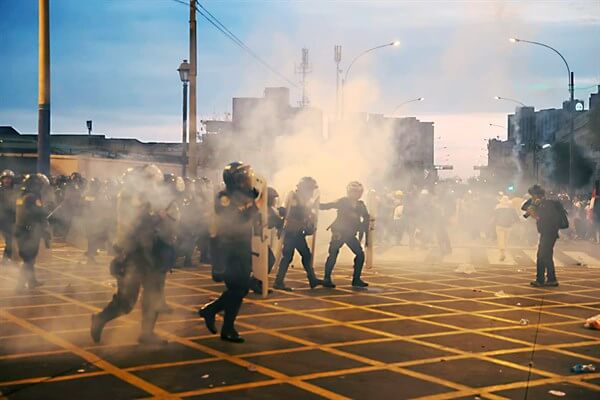 According to Meniz, journalists must go to protests "with a helmet and a bulletproof vest, because we have already seen that pellets can cause serious injuries or even death."
"We also wear masks to protect ourselves from tear gas," she added. Meniz believes the government must "give guarantees to journalists and Peruvians."
"The dozens of deaths to date are excessive. The police must be managed in a better way, they must be trained, trained and guided to avoid violence,"she said.
"We take care of ourselves but they must also do it and guarantee order and peace," she added.
Peru's problems are far from over and journalists are still victims of violence. The latest report from ANP, which covers the month of January 2023, stated that there were 94 attacks against journalists during the coverage of social protests.
Added to last month's record, it gives a total number of 153 attacks since December 7, the date on which the protests began across Peru.