Lima, Peru — Peru's President Dina Boluarte took part in the 78th session of the United Nations General Assembly in New York on Tuesday. During her speech, she addressed topics including the performance of her administration, climate change, and the fight against poverty.
In her 20-minute address, Boluarte stated that her government "has restored stability and hope" following the protests in December 2022 and January 2023, which left more than 70 people dead. Furthermore, she believes that her administration has "successfully overcome" the political and social crisis that followed the failed coup by former President Pedro Castillo.
However, her speech happened amid growing concern about insecurity and rising crime in the country. This led the government to declare a state of emergency on Monday in the districts of San Juan de Lurigancho, San Martín de Porres (Lima), and Sullana (Piura). Additionally, the president faces high disapproval levels amongst the public.
Although Boluarte affirmed that Peru "respects democracy, the law, human rights, and international law," she is currently under a preliminary investigation by the Public Ministry regarding the deaths that occurred during the protests.
Call for cooperation on climate change
In her speech, Boluarte mentioned that climate change has also affected Peru. Therefore, she proposed an "international cooperation pact" to address the impact of a changing climate.
"I propose a pact, a commitment to international cooperation for the immediate response to meteorological phenomena, based on solidarity, resilience, and interdependence. Last month, the eight Amazonian countries held a presidential summit in which we agreed on measures for the conservation and sustainable use of the Amazon and the fight against deforestation," she stated.
Boluarte mentioned that her government has invested over USD $1 billion to address the Niño–Southern Oscillation (ENSO), a climatic phenomenon characterized by increased sea surface temperatures in the tropical Pacific Ocean, primarily in Ecuador and along the coasts of South and Central America.
At another point, she stated that, despite developing countries reducing their carbon emissions, "we continue to be the most affected by climate disasters."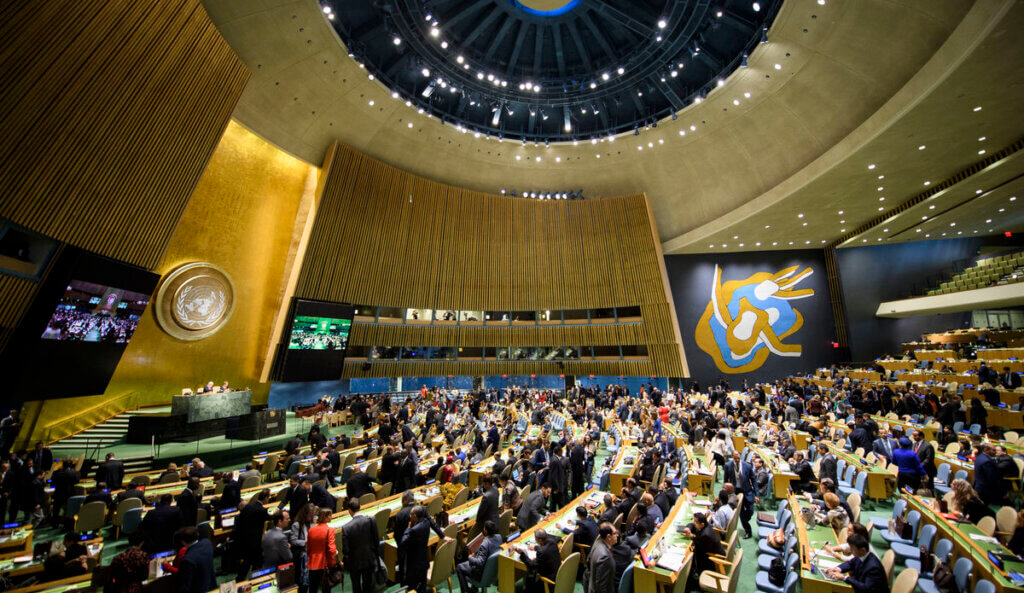 To counteract this reality, Boluarte believes that developed countries should not only adopt "more ambitious emission reduction targets but also honor their commitments in technology transfer and financing."
Thus, the head of state considered it urgent to mobilize USD $100 billion annually for climate action in developing countries, as established in the Paris Agreement for climate change mitigation and adaptation.
Fight against poverty
Boluarte also took time in her speech to assure that the primary goal of her administration is to "eradicate poverty," which increased from 25.9% in 2021 to 27.5% in 2022.
"This is the main objective of my government, and that's why we are committed to implementing the Sustainable Development Goals of the 2030 Agenda," she declared. She also called on the international community to prioritize its eradication.
Boluarte also stated that her administration is implementing policies to address both "monetary poverty" and "multidimensional poverty."
"In nine months of government, we have unblocked over 100 stalled projects that will provide water to the citizens of my country," she said.
Later, she addressed the rising global food costs, which are influenced by climatic factors, increased prices of essential production inputs, and more.
"If these trends continue […] nearly 600 million people will still be living in extreme poverty by 2030. […] We cannot accept that scenario," she added.