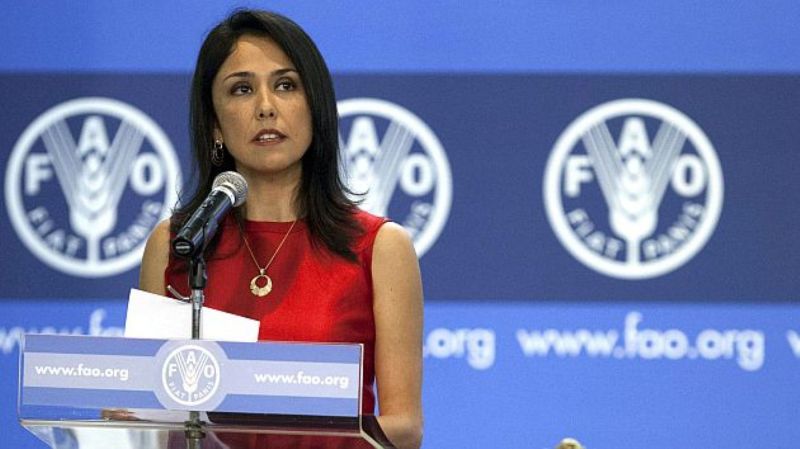 Nadine Heredia is the former first lady of Peru as wife of former President Ollanta Humala, and president of the center-left Peruvian Nationalist Party.
See the latest news for Nadine Heredia.
Heredia was born in Lima on May 25, 1976 to parents from the rural Paucar del Sara Sara province of Ayacucho. She graduated with a bachelor's degree in communications from the University of Lima, where she sang in the school's choir. She then completed her master's degree in sociology at the Pontifical Catholic University of Peru.
In 1999 when Heredia was 21 years old, she married Ollanta Humala. Nadine is a first cousin of Humala's mother, Elena Tasso. After Ollanta retired from the military, he studied international law at the Paris-Sorbonne University while Heredia obtained a doctorate in political science.
In 2005, Heredia and Humala cofounded the Peruvian Nationalist Party. In 2006, Humala launched his first presidential campaign as a left-wing candidate, which he lost to Alan Garcia.
In 2009, Peruvian newspapers published articles showing that Heredia received significant payments from Venezuelan newspapers, companies and NGOs. The controversy fueled the widely-held belief that Ollanta's campaign was funded by Hugo Chavez.
In 2010, Humala and Heredia formed Peru Wins, an alliance of the Peruvian Nationalist Party with other left-of-center political parties. Humala moved to the right to occupy a center-left position friendlier to business interests. In 2011 Humala, defeated Keiko Fujimori to become President of Peru. Heredia became first lady and continued her roles in the Peruvian Nationalist Party and Peru Wins political parties.
Nadine Heredia has been compared to Hillary Clinton and Cristina Fernandez for her active role in politics. A popular presence on television and at rallies, she is sometimes referred to as "La Presidenta." WikiLeaks released cables quoting former U.S. ambassador Peter McKinley as saying Heredia is "reputedly the radical political brains behind Humala."
The Peruvian Constitution prohibits presidents from running for consecutive terms. Political experts believe Nadine Heredia would run in 2016 to continue their party's policies. However another constitutional provision prohibits immediate family members of a sitting president from running. That provision is being examined by congress and the electoral court. If it is overturned, Nadine Heredia will be eligible to run for president in 2016.
In late 2014 and early 2015, several allegations of corruption and money laundering surfaced against Nadine Heredia and her brother. The seriousness and quantity of the charges has eroded her public support, which had historically been higher than her husband's. Approval ratings for Nadine Heredia fell below Ollanta Humala, the least popular president in Latin America, for the first time in February 2015.
In addition to her roles in Peruvian politics, Nadine Heredia is a Special Ambassador for the Food and Agriculture Organization of the United Nations. Heredia and Humala have three children.