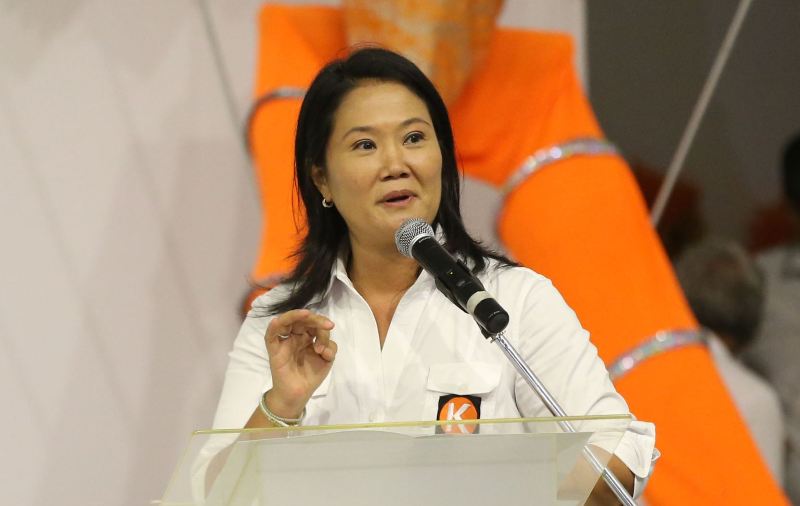 Keiko Fujimori is the leader of the Popular Force political party, and two-time presidential candidate.
See the latest news on Keiko Fujimori.
Born in 1975, Keiko was in high school at Recoleta Sacred Heart when her father, Alberto Fujimori, was elected president of Peru. Her parents separated during her father's first term in office and Alberto Fujimori appointed Keiko Fujimori, his eldest daughter, as Peru's first lady in 1994.
The position brought Keiko into the national spotlight at 19 years old. She traveled the country and worked to assist disadvantaged communities. She founded the Peruvian Baby Heart Foundation, which provides impoverished children in rural areas with assistance and resources to receive life-saving heart surgery from modern hospitals in Lima and other urban centers.
After finishing high school, Keiko moved to the United States to attend Stony Brook University. She earned a business degree from Boston University in 1997.
Alberto Fujimori's government fell in 2000 during a corruption scandal and the president went into exile in Japan. Alberto Fujimori was arrested in Santiago, Chile in 2005 and extradited to Peru in 2006. He was subsequently found guilty and sentenced to 25 years for corruption and authorizing death squads. Transparency International believe Fujimori and his spy chief Vladimiro Montesinos stole a combined $600 million during his decade in power.
Keiko Fujimori returned to the United States to attend Columbia University, earning her MBA in 2008. Despite living in the United States part-time to attend university, Keiko Fujimori was elected to Congress in 2006, winning the most votes in Peruvian history. As congresswoman, Keiko voted in opposition to President Alan Garcia.
In 2011, Keiko Fujimori ran for president of Peru under her new party, Popular Force. Her platform of "fujimorism" is the political philosophy of her father, who is still popular for restoring security and the economy. Fujimorism advocates free trade and strong security. However Keiko Fujimori's economic policies have taken on more populist tones in 2016.
Keiko won over 23% of the vote in 2011, beating former Cabinet chief Pedro Pablo Kuczynski and former President Alejandro Toledo to qualify for a second round against Ollanta Humala. Keiko lost the tight runoff against Humala, winning 48.6% of the vote.
After losing the presidential election in 2011, Keiko Fujimori left Congress to prepare Popular Force for the Peru's 2016 elections in which she would run for president again. She served as president of the largest opposition party in Congress during the government of Humala's Peruvian Nationalist Party. Popular Force often voted with Alan Garcia's APRA party to block Humala's initiatives.
Fujimori's platform for 2016 included tax breaks and incentives for small businesses to encourage registration of informal companies. Another signature initiative is a law which would allow communities to become shareholders in mining projects. She has also vowed to expand electricity and internet coverage into rural areas.
Fujimori has vowed to protect the interests of small and medium-sized businesses over large multinationals. She has advocated for state participation in strategic industries such as energy. She has also insisted that for mining projects such as the controversial Tia Maria copper mine must have the support of local communities to proceed.
The Popular Force party won a majority of seats in Congress on Peru's general elections on April 10, 2016. But Fujimori lost a closely contested runoff on June 5 to President Pedro Pablo Kuczynski.
Keiko Fujimori's political success demonstrates the continued popular support of Alberto Fujimori, and many have claimed that the daughter's support today is, in effect, a vote for her father.