The big Guerrero soap has a new twist as of this week. On Wednesday, in what seems to be its last chapter, FIFA reduced the Peruvian captain's ban from 1 year to 6 months. By doing so, he is able to defend his country next June at the World Cup in Russia. In Peru, a national sigh of relief rung out among media and fans alike.
After the qualification game against Argentina in October, Guerrero tested positive for benzoylecgonine, the main metabolite of cocaine and is listed as a banned substance on FIFA's list.
The news about the failed test was announced publicly a few weeks later by Peru's football governing body.
Guerrero, who scored six goals in the qualifications, was kept off the pitch for the playoffs against New Zealand. The nation was stunned as their hopes had been pinned on his shoulders as he was to lead Peru to their first World Cup in 35 years.  
The 33-year old star player of the Incas himself has always denied the claim that he used the banned substance. Guerrero, with his 32 goals for his country is the all-time top_scorer for Peru, insisted that the failed test was a result of drinking a spiked tea.
In first instances, Fifa didn't buy the story and, on December 8th, it suspended Peru's captain for 1 year, which meant he wouldn't be seen in Peru's  participation in Russia.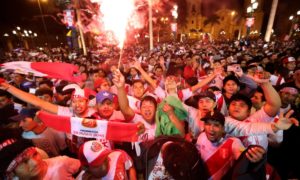 But the story went on as Guerrero didn't reconcile himself to the verdict. He engaged a group of seasoned lawyers, among which Juan de Dios Crespo, a well-known expert in sports law who also provided advice to Argentinean Lionel Messi when the latter insulted a linesman.  
On Wednesday, December 20th, they appeared at FIFA's Appeal Committee in Zurich, Switzerland and performed successfully, having his ban cut in half.
"After taking into account all the circumstances of the case, in particular, the degree of fault of the player, considered a six-month period of ineligibility to be a proportionate sanction," FIFA's statement read.
From May 3rd on, Guerrero will be free to play again. And a month later, the Flamengo striker will once again be in the spotlight at football's highest stage.