Lima, Peru — Helping individuals with disabilities achieve their dreams, work independently, and create more opportunities for them were the motivations behind Peruvian engineer Ricardo Rodríguez founding Pixed Corp, a startup that has gained worldwide recognition for creating the world's first bionic prosthesis with elbow articulation.
"The issue of disability has always been close to me and my family because I had an uncle who was disabled. During that time, assistive technologies were not very accessible; he needed a wheelchair, and the government provided him with a plastic chair with bicycle wheels. Seeing that left a lasting impact on me," Rodríguez told Peru Reports.
As he began his professional career, Rodríguez decided to channel his efforts into the development of assistive technology. "My uncle passed away before I could complete my education, and I couldn't help him. But I realized that the statistics for manufacturing and delivering high-quality prostheses in Peru were dismal, so I decided to do something about it," he said.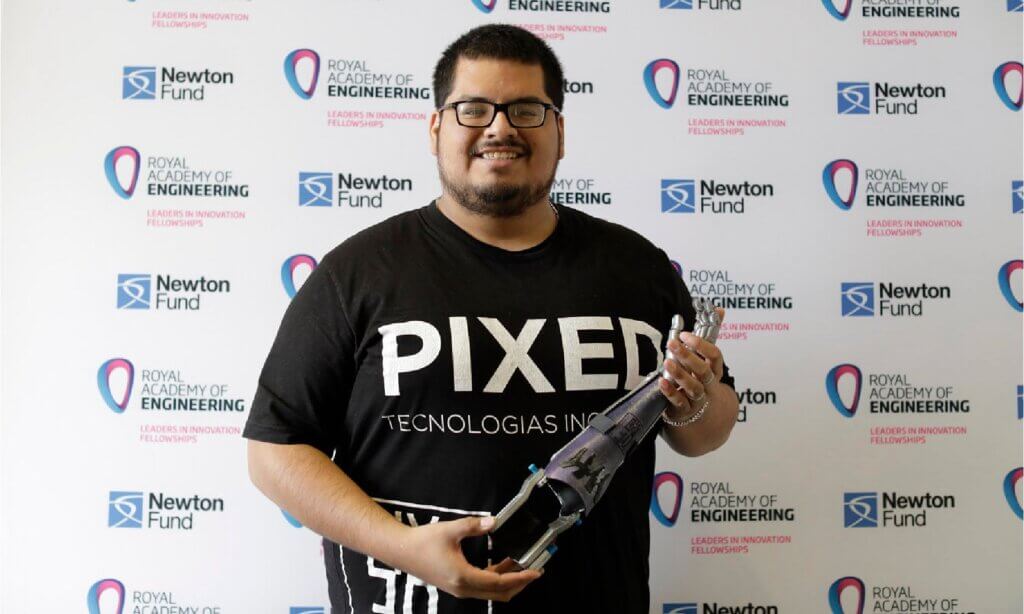 In Peru, 5.2% of the population has some form of disability, with over 210,000 individuals facing mobility limitations or challenges with their arms and legs.
Founded on December 15, 2015, Pixed is a research and technology development company that provides mechanical and psychological support to its users, ensuring a seamless adaptation to their devices.
Pixed's engineers collaborate closely with the Peruvian Association of Hand and Microsurgery, which has 47 specialized hand and microsurgery doctors who offer medical insights for prosthetic improvements.
"We specialize in providing complete or partial upper arm prostheses. We create finger prostheses, hand prostheses, transradial prostheses (forearm amputation), prostheses with elbow articulation, and, finally, shoulder prostheses," Rodríguez explained.
To achieve this feat, Rodríguez said they use two types of technology: 3D design and printing and the creation of sensors for bionic prostheses that execute pre-recorded commands. These prostheses also feature predictive learning processing based on the user's daily activities.
"Our differentiating factor is our user-centric design methodology. We are always attentive to what users are seeking, what additional capabilities they'd like with their prostheses, and we continually upgrade and enhance new versions," he added.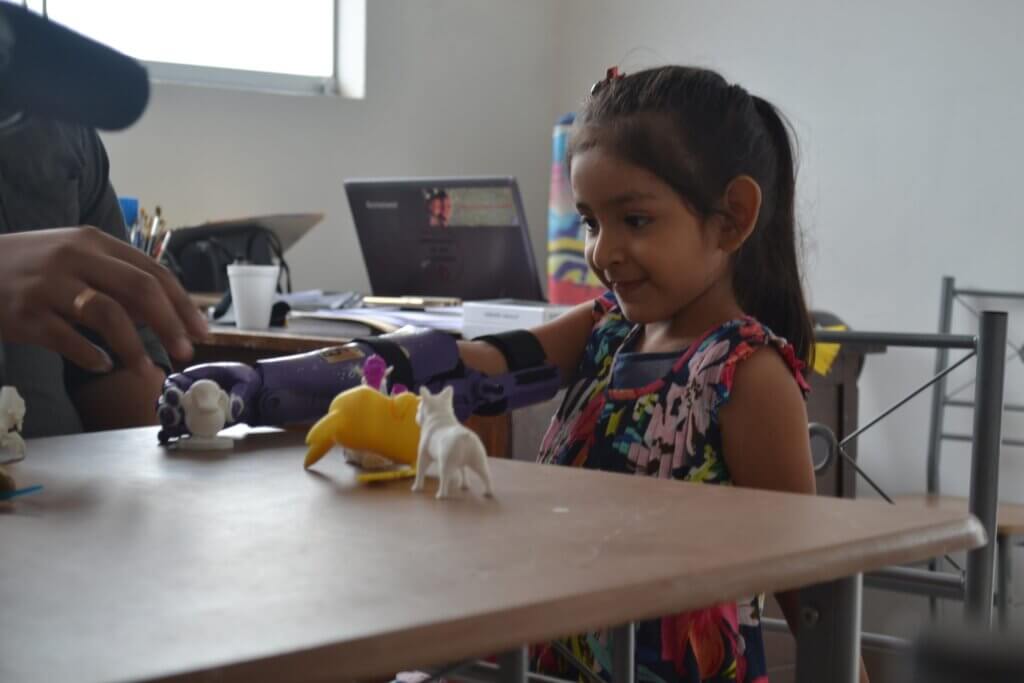 Another distinctive feature is their affordability. Pixed's prostheses have removable parts and can evolve over time, eliminating the need for a complete replacement.
"We've designed it so that if the user loses or gains weight, we can remove the bionic technology and adapt it to a new size. This means replacing only the component rather than all the initially acquired technology," he explained.
Rodríguez also emphasized that Pixed offers customization for each of their prostheses.
Pixed and its global recognition
In 2020, Pixed Corp launched the first bionic prosthesis for forearm amputations. However, users began requesting shoulder bionic prostheses (full arm). "We got to work on it, and in 2021, we launched the first prosthesis of this kind," Rodríguez recounted.
E-Nable, a global, open-source community dedicated to 3D printing upper limb assistive devices, recognized this technology as the world's first shoulder disarticulation prosthesis with mechanical elbow articulation. Additionally, the project received backing from the Royal Academy of Engineering in the United Kingdom.
"One of our first users of this prosthesis was a 21-year-old from Arequipa. He soon told me that the first thing he was able to do was brush his teeth, but six months later, he said he started working in a carpentry workshop with the prosthesis. That's exactly what motivates us to keep moving forward," Rodríguez said.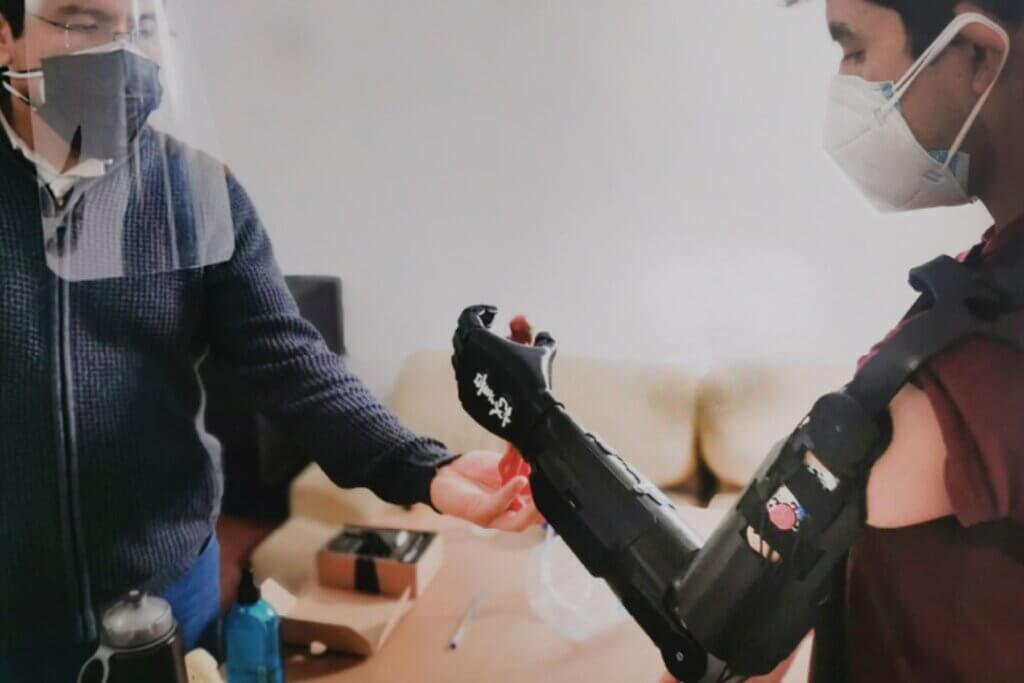 According to the founder, Pixed always seeks continuous innovation and values user feedback. Currently, the company has five upgrades ready to be launched for its bionic devices in 2024.
"We also aim to expand to other countries in Latin America," he said.
Currently, Pixed has gained significant traction in the Chilean market. Countries like Mexico, Brazil, and Bolivia have also expressed interest in the Peruvian startup, which has delivered over 130 prostheses to children and adults to date.
"Our idea is to reduce the manufacturing time to two weeks so that people from other countries can come and leave with their prostheses. The goal is that during their visit to Peru, they also experience our national culture and take away a new treasure: a leading-edge medical technology device," Rodríguez concluded.