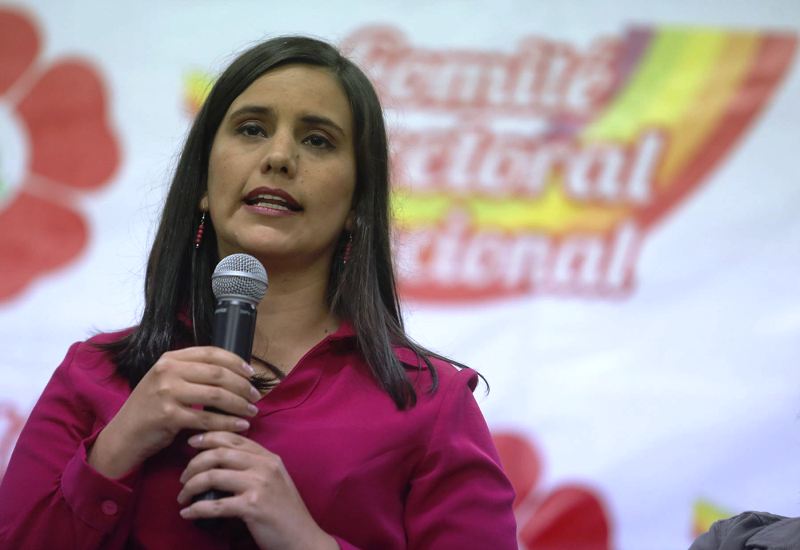 Veronika Mendoza is a former presidential candidate and congresswoman for the left-wing Broad Front party.
See the latest news for Veronika Mendoza.
Veronika Mendoza was born in Cusco in 1980 to a Peruvian father and French mother. After initially studying architecture at UNSAAC, she obtained a degree in psychology from the Denis Diderot University in France. She then completed postgraduate studies to earn master's degrees in social sciences and education from the New Sorbonne University in France and the National University of Distance Education in Spain.
After her studies, Mendoza taught Spanish in Paris and Cusco before working as a university professor in Puno until 2010.
In 2011 Mendoza was elected to Congress to represent Cusco with the Peruvian Nationalist Party of President Ollanta Humala and first lady Nadine Heredia. In Congress Mendoza has served as the women's commission spokeswoman since 2010.
Mendoza has said she felt her calling in politics during the Baguazo conflict over oil exploration in the Amazon jungle, in which battles between Peru's police and indigenous villagers left dozens dead.
Mendoza resigned from the Peruvian Nationalist Party in 2012 during the Espinar conflict, in which farmers of the Espinar province in her native state of Cusco held an indefinite protest against the expansion of the Tintaya copper mine. Four people were killed in confrontations with police before President Ollanta Humala declared martial law in the province.
After leaving the Nationalist Party, Mendoza joined the leftist Broad Front coalition along with fellow Nationalist Party defectors Javier Diez Canseco and Rosa Mavila. At the time the coalition also included Popular Action and Land and Liberty parties.
Mendoza announced she would run for president of Peru in August 2015. She vowed to increase government spending by over 50%, and she supports modifying Peru's constitution in order to expand the role of the state in the economy. Mendoza has vowed to revise all of Peru's free trade agreements and she is opposed to the Trans-Pacific Partnership.
Mendoza came in third place in 2016 elections on April 10, which disqualified her for a runoff which ultimately saw frontrunner Keiko Fujimori against Pedro Pablo Kuczynski.
Mendoza has expressed support for the foreign policies of Venezuela, Bolivia and Ecuador, and she has criticized what she calls Peru's submissive posture toward multinationals and big business.
Mendoza holds dual citizenship in Peru and France. The native of Cusco speaks Quechua, the language of the Incas and as many as 3 million Peruvians.