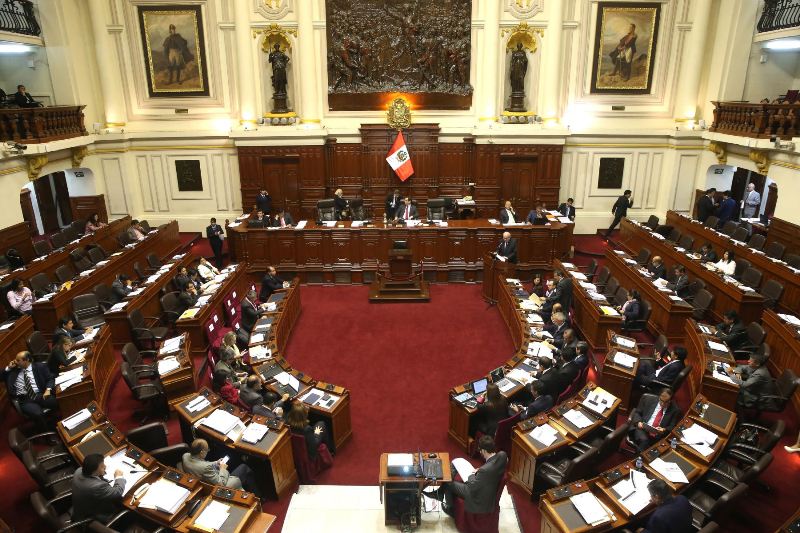 Peru's Congress is a unicameral chamber made up of 130 legislators. Each member serves a five-year term coinciding with the president.
See the latest news from Congress.
Keiko Fujimori's right-wing populist party, Popular Force, took a majority of seats over five other political parties in 2016 elections held on April 10. Pedro Pablo Kuczynski's Peruvians for Change party took over 307,000 votes more than Veronika Mendoza's Broad Front, or 18% more of the latter's total. However the distribution in Peru's 37 representative regions yielded Broad Front two more seats in Congress.
Congress is presided over by congressional president Luz Salgado, a Popular Force veteran from Lima.
Congress by party
Cesar Acuña's centrist party, Alliance for Progress, took nine seats for 7%. Alfredo Barnechea's center-left Popular Action party and Alan Garcia's centrist APRA each won five seats, or 4% of total votes.
Below are the congressmen organized by party and state. The next president and legislators will assume office on July 28.
Popular Force
Miguel Castro (Amazonas)
Marita Herrera (Amazonas)
Carlos Dominguez (Ancash)
Maria Melgarejo (Ancash)
Yesenia Ponce (Ancash)
Dalmiro Palomino (Apurimac)
Maria Aramayo (Arequipa)
Miky Dipas (Ayacucho)
Osias Ramirez (Cajamarca)
Carlos Ticlla (Cajamarca)
Segundo Tapia (Cajamarca)
Wilmer Aguilar (Cajamarca)
Victor Albrecht (Callao)
Francisco Villavicencio (Callao)
Estelita Bustos (Callao)
Nelly Cuadros (Cusco)
Wuilian Monterola (Huancavelica)
Guillermo Bocangel (Huanuco)
Karina Beteta (Huanuco)
Miguel Elias (Ica)
Cesar Segura (Ica)
Betty Anaculi (Ica)
Sonia Echevarria (Junin)
Federico Pariona (Junin)
Israel Tito (Junin)
Daniel Salaverry (La Libertad)
Octavio Salazar (La Libertad)
Rosa Bartra (La Libertad)
Luis Yika (La Libertad)
Jose Palma (Lambayeque)
Hector Becerril (Lambayeque)
Liliana Takayama (Lambayeque)
Kenji Fujimori (Lima)
Cecilia Chacon (Lima)
Yeni Vilcatoma (Lima)
Luz Salgado (Lima)
Lourdes Alcorta (Lima)
Marco Miyashiro (Lima)
Edwin Vergara (Lima)
Luis Galarreta (Lima)
Leyla Chihuan (Lima)
Juan Carlos Gonzales (Lima)
Ursula Letona (Lima)
Miguel Angel Torres (Lima)
Paloma Noceda (Lima)
Francisco Petrozzi (Lima)
Milagros Salazar (Lima)
Elard Melgar (Lima provinces)
Gladys Andrade (Lima provinces)
Percy Alcala (Lima provinces)
Lizbeth Robles (Lima provinces)
Patricia Donayre  (Loreto)
Juan Carlos del Águila (Loreto)
Tamar Arimborgo (Loreto)
Modesto Figueroa (Madre de Dios)
Mario Mantilla (Moquegua)
Clayton Galvan (Pasco)
Roy Ventura (Pasco)
Karla Schaefer (Piura)
Luis Lopez (Piura)
Martires Lizana (Piura)
Freddy Sarmiento (Piura)
Maritza Garcia (Piura)
Lucio Avila (Puno)
Moises Mamani (Puno)
Rolando Reategui (San Martin)
Gilmer Trujillo (San Martin)
Esther Saavedra (San Martin)
Guillermo Martorell (Tacna)
Bienvenido Ramirez (Tumbes)
Juan Carlo Yuyes (Tumbes)
Glider Ashñahua (Ucayali)
Carlos Tubino (Ucayali)
Broad Front
Maria Foronda (Ancash)
Richard Arce (Apurimac)
Horacio Zeballos (Arequipa)
Justiniano Apaza (Arequipa)
Edyson Morales (Ayacucho)
Tania Pariano (Ayacucho)
Marco Arana (Cajamarca)
Wilbert Rozas (Cusco)
Edgar Ochoa (Cusco)
Zacarias Lapa (Huancavelica)
Rogelio Tucto (Huanuco)
Mario Canzio (Junin)
Marisa Glave (Lima)
Manuel Dammert (Lima)
Indira Huilca (Lima)
Hernando Cevallos (Piura)
Oracio Pacori (Puno)
Edilberto Curro (Puno)
Alberto Quintanilla (Puno)
Jorge Castro (Tacna)
Peruvians for Change
Ana Maria Choquehuanca (Arequipa)
Sergio Davila (Arequipa)
Janet Sanchez (Callao)
Alberto Oliva (Ica)
Moises Guia (Junin)
Clemente Flores (Lambayeque)
Mercedes Araoz (Lima)
Carlos Bruce (Lima)
Salvador Heresi (Lima)
Gilbert Violeta (Lima)
Juan Sheput (Lima)
Pedro Olaechea (Lima)
Guido Lombardi (Lima)
Alberto de Belaunde (Lima)
Roberto Vieira (Lima)
Gino Costa (Lima)
Jorge Melendez (Loreto)
Vicente Zeballos (Moquegua)
Alliance for Progress
Eloy Narvaez (Ancash)
Cesar Vasquez (Cajamarca)
Benicio Rios (Cusco)
Richard Acuña (La Libertad)
Gloria Montenegro (La Libertad)
Edwin Donayre (Lima)
Julio Rosas (Lima)
Marisol Espinoza (Piura)
Cesar Villanueva (San Martin)
Popular Action
Miguel Roman (Arequipa)
Armando Villanueva (Cusco)
Victor Garcia (Lima)
Yonhy Lescano (Lima)
Edmundo del Aguila (Lima)
APRA
Elias Rodriguez (La Libertad)
Javier Velasquez (Lambayeque)
Mauricio Mulder (Lima)
Jorge del Castillo (Lima)
Luciana Leon (Lima)